FUNCTIONAL MEDICINE
HORMONE MENTORISHIP
12-Week Fast-Track Hormone Mentorship Program.
Designed for Chiropractors, Osteopaths & Physiotherapists.

Starts 3rd May 2023
Integrate functional medicine into your practice.
(Payment Plans Available)
Secure your seat now! Spots are limited.
Early bird offer expires 5th April, 2023* (T&C's apply - see below)
If you're a health professional, I know you deal with inflammation every single day.
Treating things like tendonitis, bursitis, frozen shoulder, low back pain, headaches and arthritis...
These musculoskeletal diagnoses are also chronic
inflammatory
problems, largely driven by the immune system.
In order to reverse these symptoms quickly, it is fundamental that you understand your patient's IMMUNE TYPE: Are they Th1, Th2 or Th17?
Knowing their immune type helps you figure out
what supplements are best
to use (and more importantly, what NOT to use), as well as which
dietary and exercise choices
will be best for that particular client.
Functional medicine helps you get better results for your patients - fast!
Payment Plans Available, Early Bird Offer Expires 28th November.
Why did I create this mentorship?
I created this mentorship based on
exactly
what I wished I was taught.
I condensed the information into just 12-weeks of content, so it's easy for the busy health professional to fit it into their work schedule.
I've packed it full of clinical pearls that I've learned over the years, based on real patient experiences.
I don't like to waste time, so I teach you exactly what you need to know so you can be confident. Start applying these concepts in clinic from the get-go.
This mentorship was born out of frustration about what is currently being offered in functional medicine education marketplace...
The problem with other functional medicine courses:
When I first started functional medicine back in 2008, I was completely lost and had no one to turn to when I had questions. This is why it's important to have direct access to a mentor, so you can get help along the way.
There are too many programs that give you information overload, with very little help on how to actually apply what you've learned in a clinical setting.
They also focus heavily on the wrong systems, such as targeting the gut & the adrenals first (when there are MUCH bigger problems at play).
There's too much reliance on functional lab testing. I teach you exactly what tests to use without the overwhelm.
They don't even mention the immune types! This is fundamental if you're a musculoskeletal therapist that deals with inflammation.
Payment Plans Available, Early Bird Offer Expires 28th November.
Don't delay!
MUSCULOSKELETAL
FUNCTIONAL MEDICINE MENTORSHIP

Fast-track your knowledge in 12 weeks. Enhance your current skillset.
Who is this mentorship for?
This is a fast-track program designed for the busy health professional. This program is suitable for:
Chiropractors
Osteopaths
Physical Therapists / Physiotherapists
Health professionals that work with inflammation & the musculoskeletal system.

What other health professionals are saying: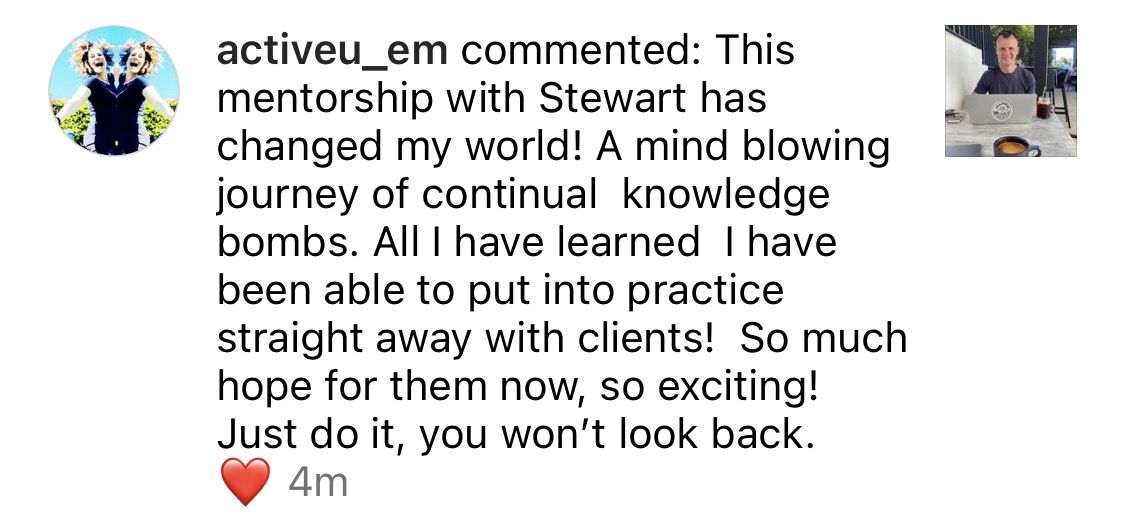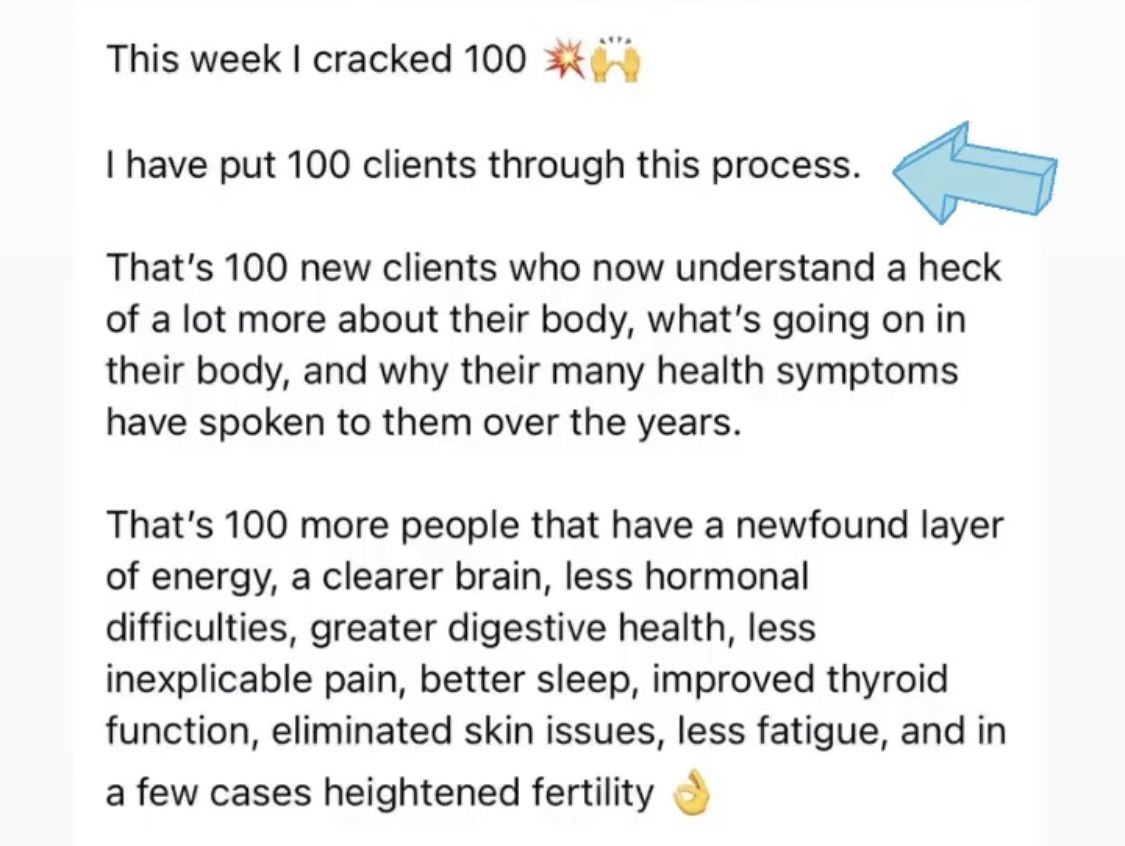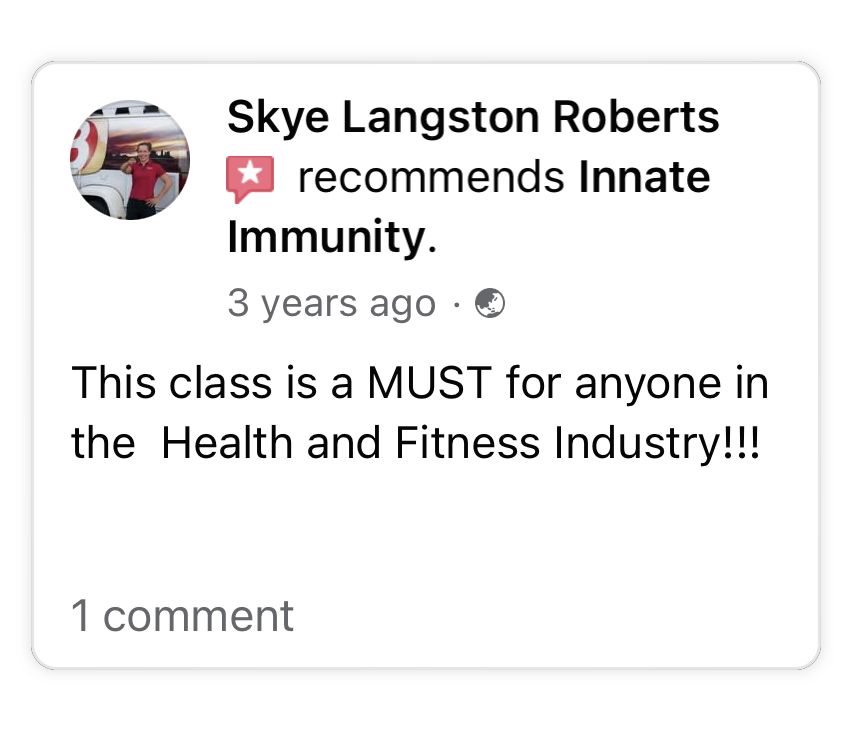 JOIN US.
Don't miss the early bird!
Save $500 before 28th November, 2022.

Easy, practical application.
MAKE COMPLEX MUSCULOSKELETAL
PROBLEMS SIMPLE.
What does this mentorship include?
12 weeks of functional medicine education & clinical pearls from Dr Stewart Gillespie.
We show you how the immune system, digestive system and nervous system are intimately connected to the musculoskeletal conditions you see in clinic every day. Scroll down to see the entire curriculum!
Learn about the different immune types (Th1, Th2 & Th17) & drivers of chronic inflammation.
What you'll also get:
x 1 recorded lecture released every week (1-1.5 hours)
Printable slides - be prepared to take notes!
LIVE zoom calls with Dr Stewart Gillespie & your cohort (2 hours) - This is the perfect chance to ask your questions every single week. Have direction and guidance so you can get results fast. Connect with your peers. Can't make it to the live Q&A? No problem - submit your questions beforehand, and we'll record it all for you.
36+ hours of content - get all your CPD/CPE done in one place.
Online community: VIP access to our online community. Connect with like-minded people from all different professions. Bounce ideas off each other. Form new friendships and opportunities to collaborate with your colleagues.
Real time help for your clients! You probably have some patients that you want to start helping ASAP. We encourage you to bring their case to the group. It will help you, your client and it's better for everyone to learn from real patient cases.
Don't believe us? See for yourself...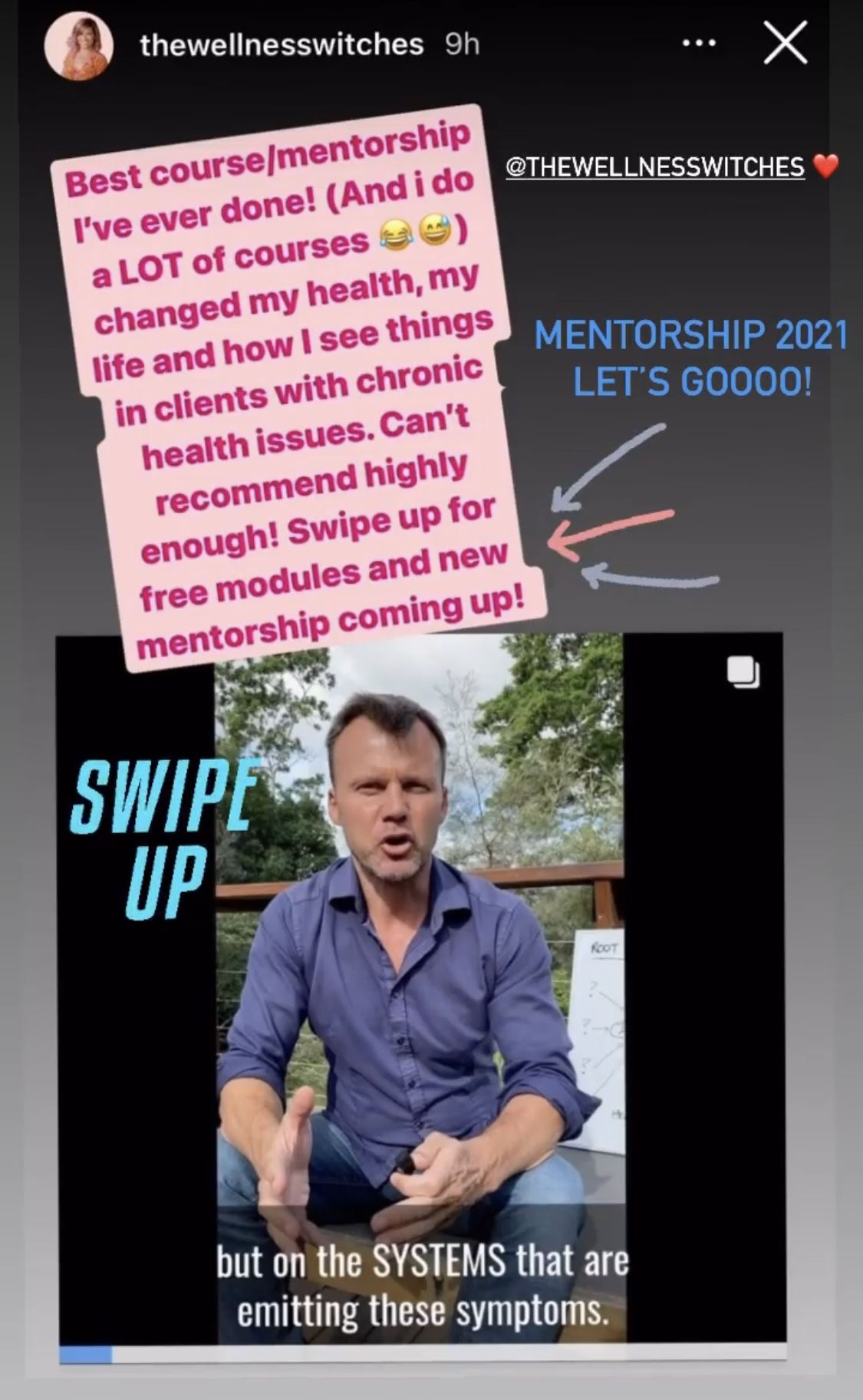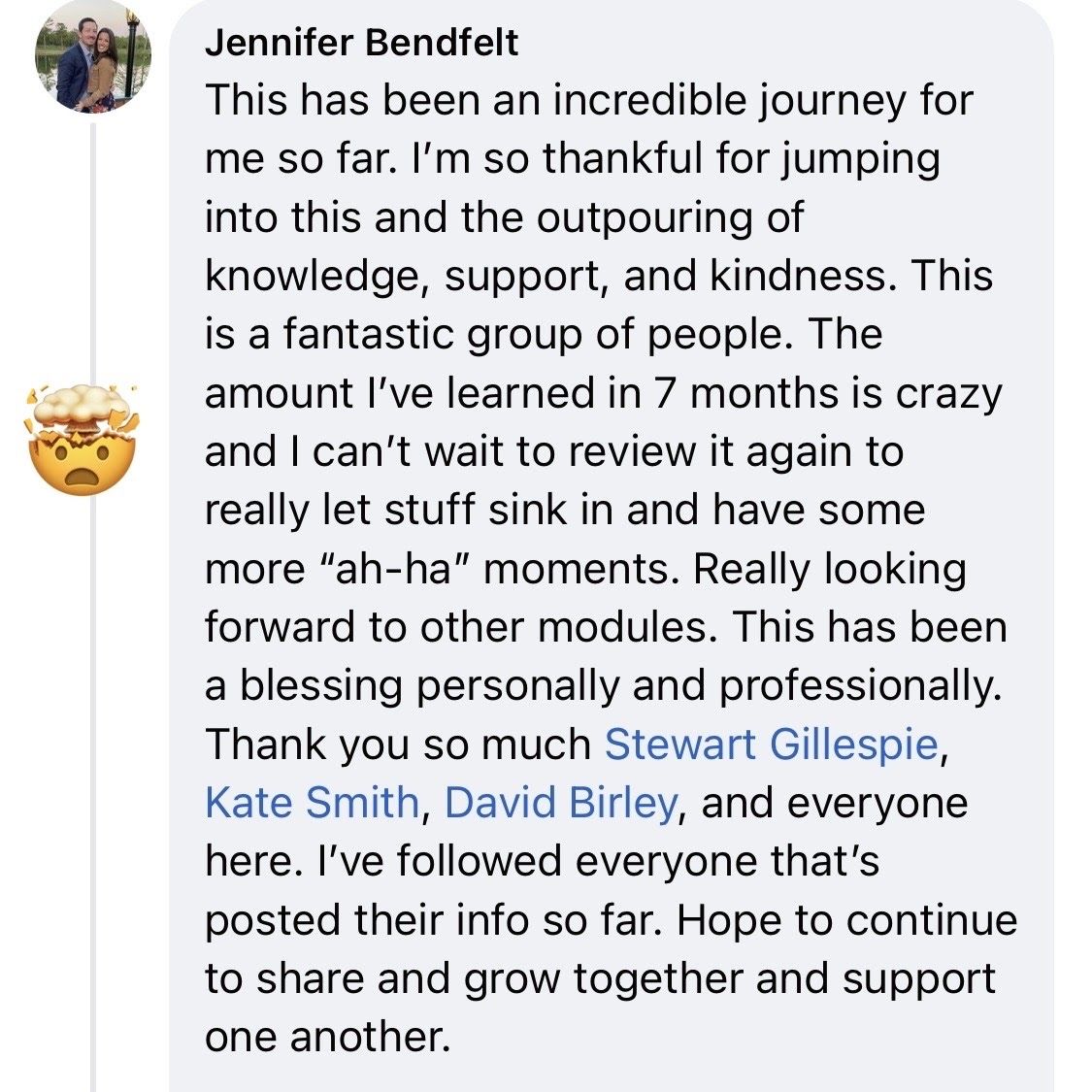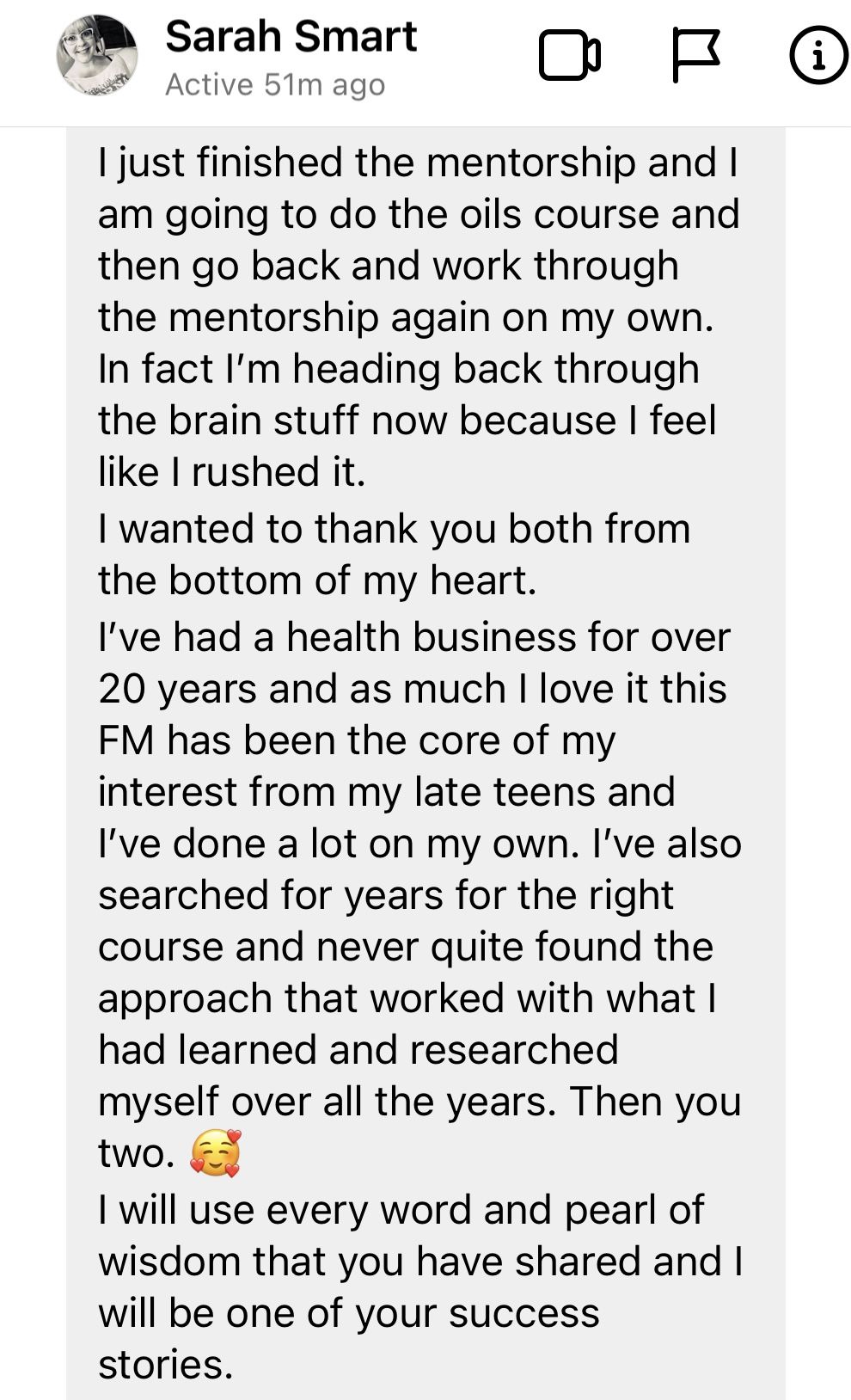 All of this for just $1497 USD (early bird price)
Here's what April said about the mentorship:
Access the entire program for just
$1497 USD (early bird price)
Payment Plans Available, Early Bird Offer Expires 28th November.
MEET YOUR MENTOR




DR STEWART GILLESPIE
Who is Dr Stewart Gillespie?
Dr Stewart Gillespie is a functional medicine practitioner with over 15 years of clinical experience. He has treated patients world-wide, mostly through a virtual practice.

Originally trained as an osteopath in London and a chiropractor in New York, Dr Stewart Gillespie worked closely with Dr Eric Berg for over 4 years - helping patients with hormone problems, weight loss, interpreting blood tests and functional lab work.

Dr Stewart has undertaken many training programs and mentorships himself, including learning from Charles Poliquin, Datis Kharrazian, Functional Medicine University & the Kalish Institute.

Dr Stewart also taught his signature immune types & functional health solutions in live workshops around the world with Dr Perry Nickelston (Stop Chasing Pain).

He shares his unique methods with other health professionals - helping them to reverse chronic pain, illness and put autoimmune disease into remission.
Dr Stewart Gillespie's Functional Medicine Mentorship has successfully helped thousands of clients around the world, and has had practitioners participate from every corner of the globe, including:


USA
Canada
UK
United Arab Emirates
Asia
Australia
New Zealand
Testimonial by Dr Perry Nickelston (Stop Chasing Pain):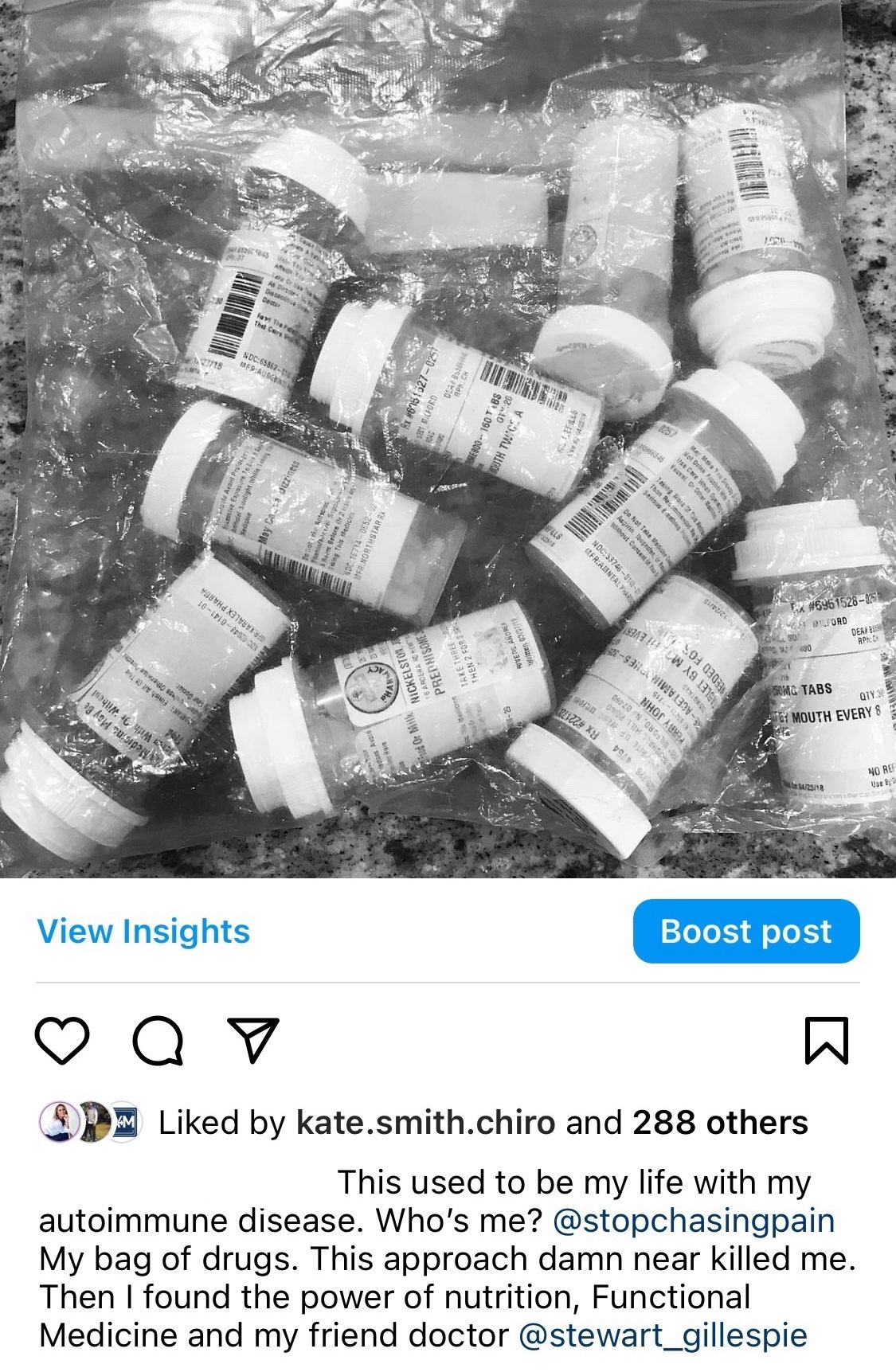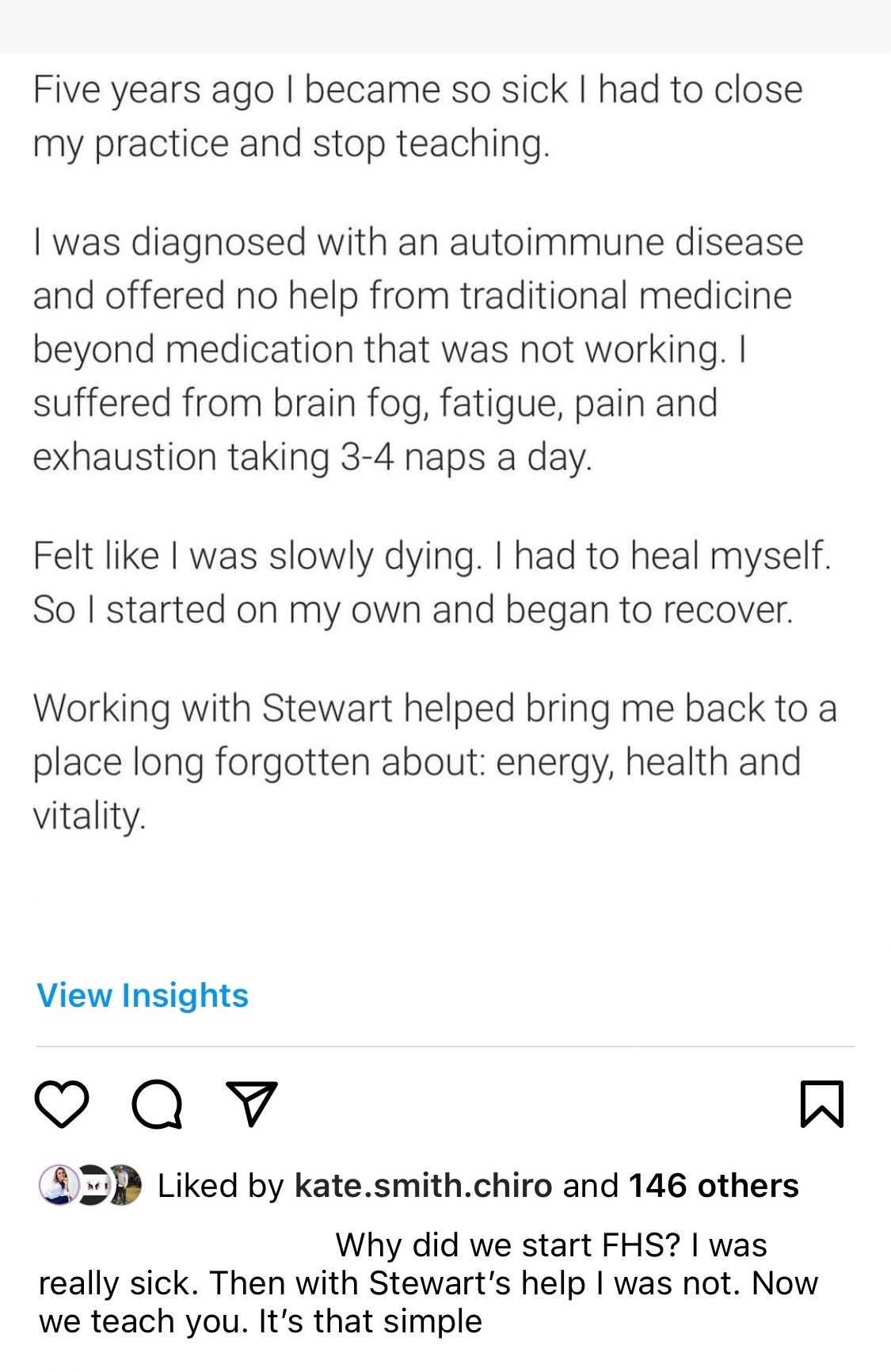 "I kid you not, within 3 days I felt 70% better.
His system was unlike anything I'd seen before. It just makes sense.
And anybody can learn it".

- Dr Perry Nickelston (Stop Chasing Pain)
Payment Plans Available, Early Bird Offer Expires 28th November.
What's the difference between a mentorship & a standard online course?
Having Dr Stewart Gillespie as your mentor will help you achieve the following:
Enhance your problem-solving skills. He'll help you ask the right questions to help you figure out the answers. This is an important skill to develop when you need to decipher the most complex of health cases.
He provides you with his own specific insights and experience.
You'll have more confidence, which comes with the guidance & support to get you results.
Minimise mistakes and setbacks. He will help you overcome beginner errors.
A mentor will stretch your mind and push you further than if you did it alone.
"If you cannot see where you are going, ask someone who has been there before."
- J Loren Norris
WHY SHOULD YOU CHOOSE

THIS

MENTORSHIP PROGRAM?
Benefits for YOU:
Enhance your current skillset. Functional medicine provides a major point of difference from other health professionals.
Gain skills that you can use virtually (if you choose). Escape the 4 walls. Have more freedom with your time/location. Work from anywhere in the world, using just your laptop. You can't do this while being a "hands on" provider.
Bulletproof your business - avoid lockdowns & clinic closures by having an extra skillset to use online.
Boost your income. Offer this new service to existing clientele, while attracting NEW patients.
Achieve faster & better results - become an expert at reducing inflammation in your clients using a root cause approach.
Stop referring complex cases out - now you have the skills to help these people!
Increase product sales. Take full advantage of your practitioner-only supplement accounts.
Be confident in what you're doing by having a mentor to lean on, pick-their-brain & ask questions.
Start sooner! Fly with the safety net of a qualified functional medicine practitioner underneath you.
Benefits for your CLIENTS:
Faster results - understanding their immune type can reduce pain and provide symptom relief very quickly.
Deeper healing - get to the root of the problem.
Chronic, complex clients now have a place to go - too often they are dismissed by their medical doctor or specialist.
Convenience. Your clinic become a one-stop-shop.
Established relationship - your clients already know, like and trust you. This makes conversion into a functional medicine consults quick and easy.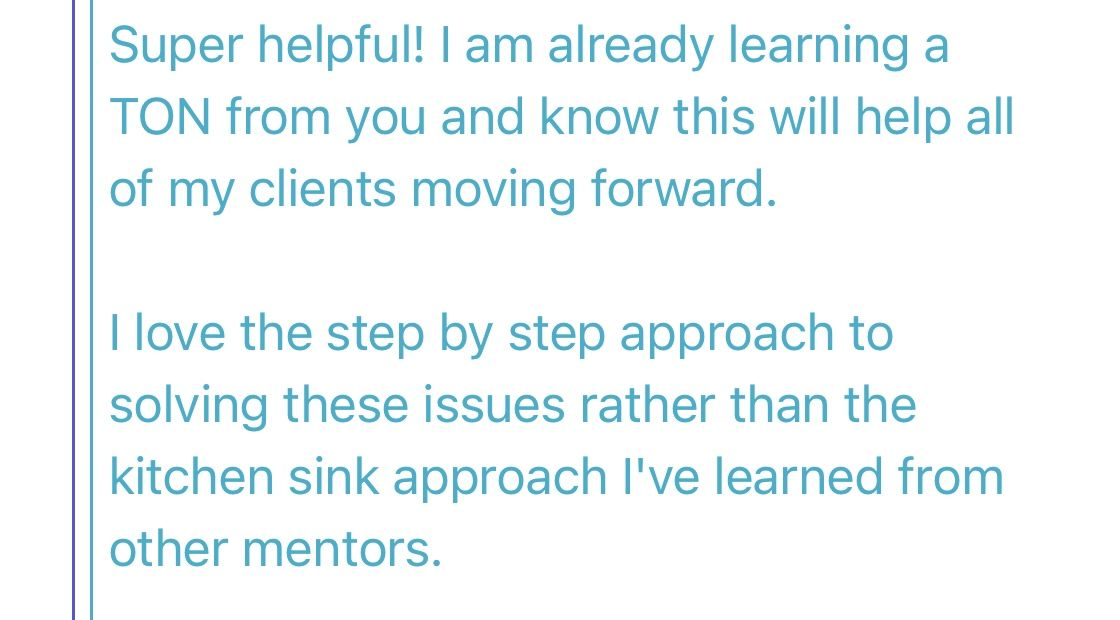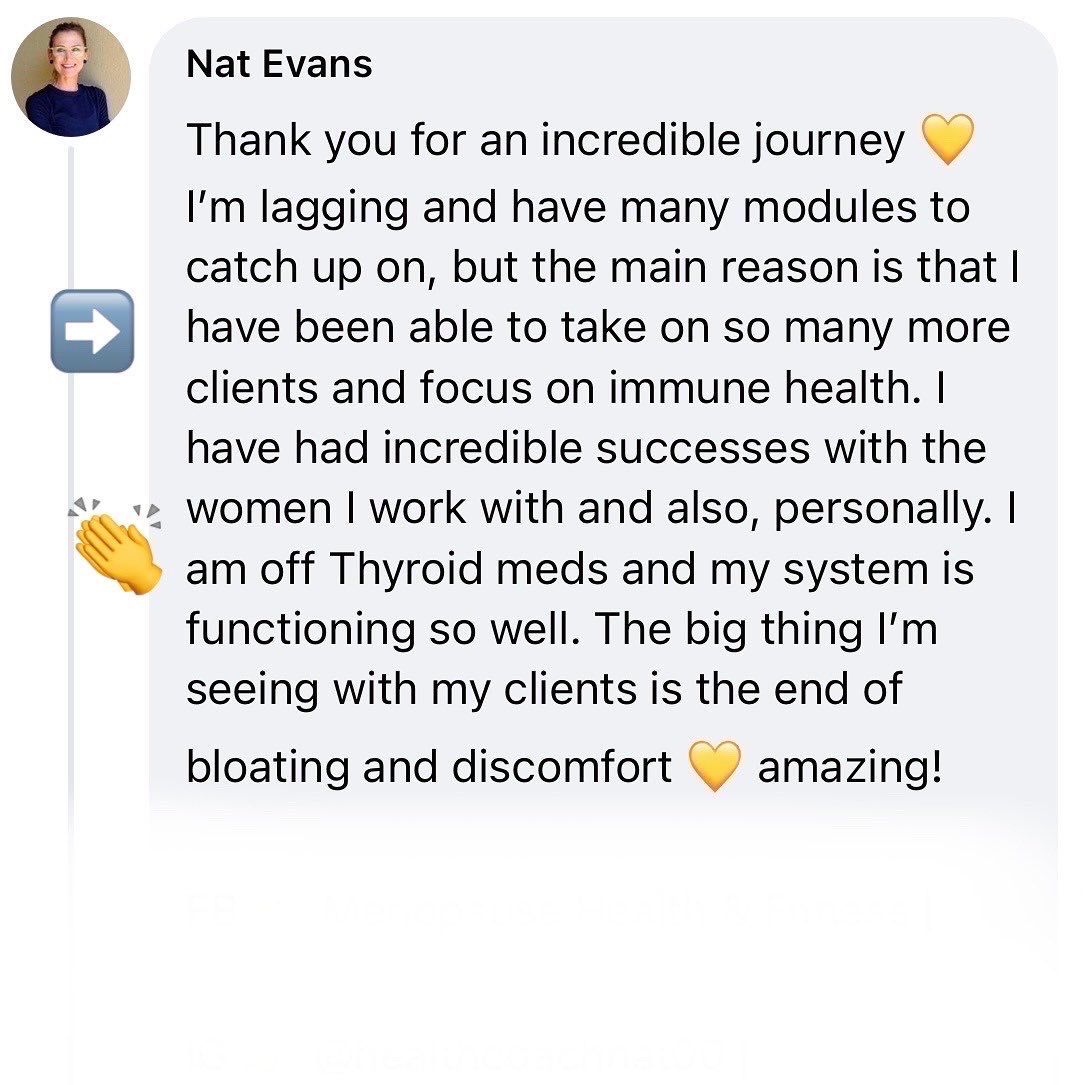 Payment Plans Available, Early Bird Offer Expires 28th November.
HORMONE
MENTORSHIP


CURRICULUM
Testimonials from REAL patients using our methods.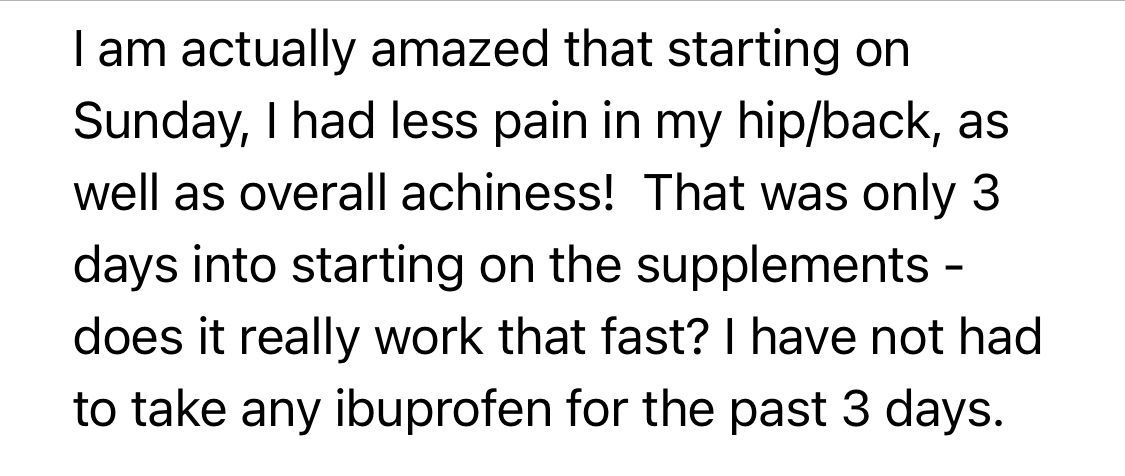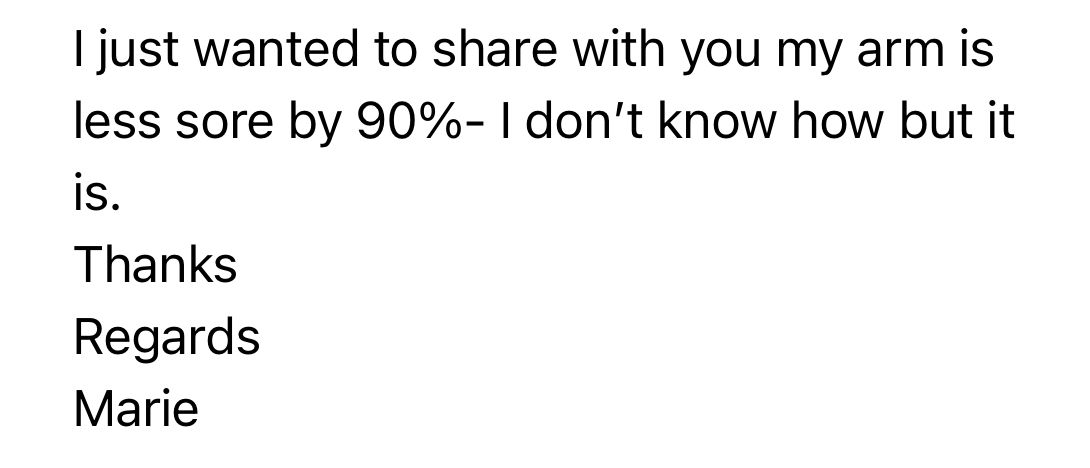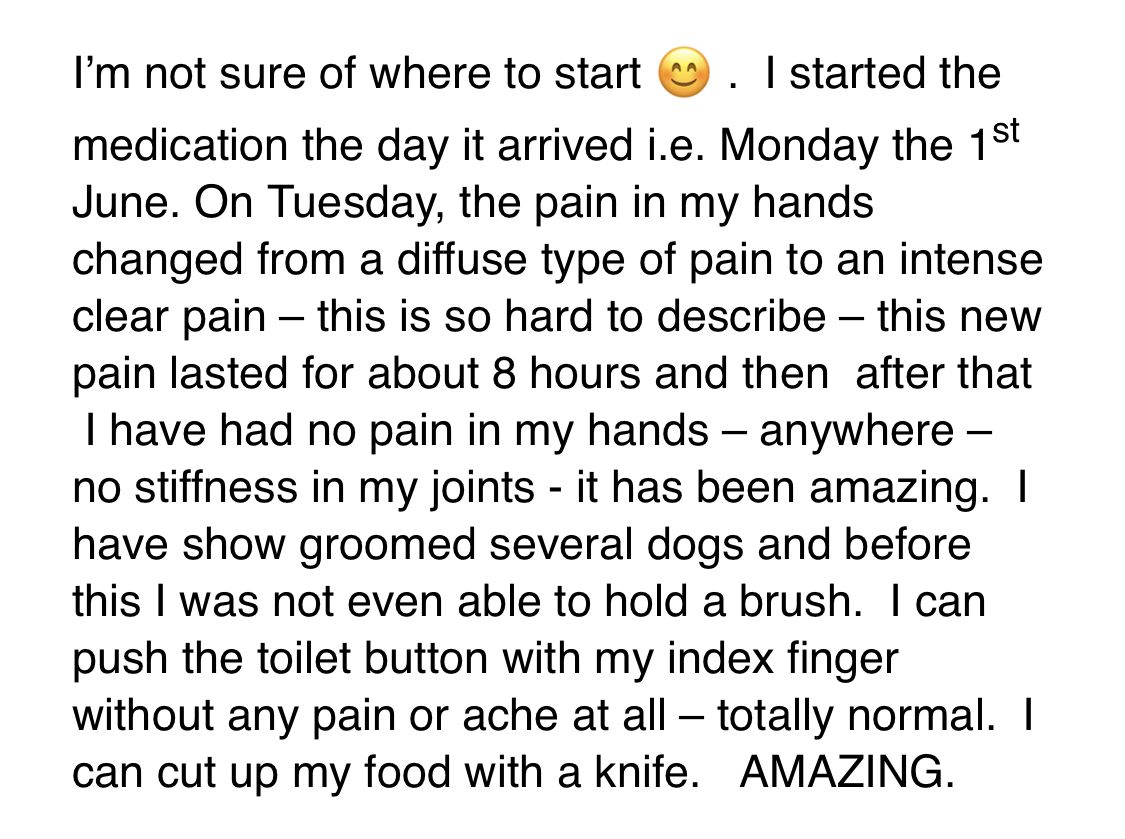 LET'S MAKE IT
HAPPEN!

Payment Plans Available, Early Bird Offer Expires 28th November.
More kind words by our students
They love our approach to learning.
"When I started this journey my world was turned upside down. All my young life I just thought everything I went through was normal. Here I am now many years later putting it all together thanks to you."
Angela M.
Without this program I would not like to think where I would be on the medical treadmill. Honestly, so many thank you's. 🙏
Kathryn S.
Wanted you to know that the conversations I have with my clients are completely different to those of 12 months ago. Thank you again, ever so much 🙏🏼
You do go above and beyond for us ❤️
Linda B.
*Early bird offers/pricing are non-refundable.
Created with